Tango Finlandia
directors: Hannu Lajunen ja Tomi Riionheimo
animation, 6min, pixilation and 2D
screening formats: 35mm Dolby Digital 5.1, Digibeta, BetaSP, DVD
world premiere 8.3.2007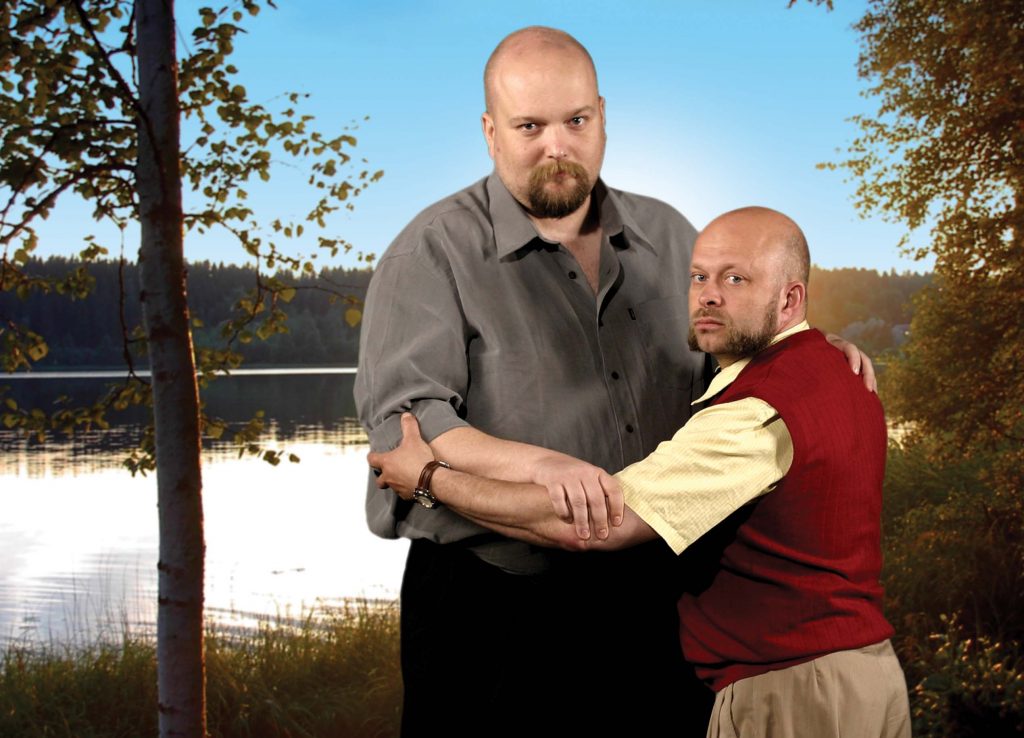 In an age where animators try to overdo each other with 3-dimensional handjobs across the line, these guys go the opposite way, presenting us with this little masterpiece of glorious 2-D. Truly original, wonderfully understated, with an exemplary correspondence between video and audio.

IXth WT Os International Film Festival, Norway 2007 (award for the best animated film)
Synopsis
A dance-evening in the local bar somewhere in the Finnish peripheria. Lonely people come there to find some joy. There is not so many customers but the hot and passionate tango rhytms take all of them to the dancefloor. The Finnish tango is hard and sweaty. This film is basicly an action movie.
DVD releases
KinoKompo vol. 1 – 10 short films from Finland (Finnish film contact & Tampere Film Festival). BUY.
Gay Fun Shorts compilation DVD (Salzgeber & Co. Medien GmbH, Saksa). BUY.
Festivals
Reanimacja, Lodz, Poland 20-22.4.2007 – panorama
MO & FRIESE KinderKurzFilmFestival Hamburg, Germany 03. – 10. Juni 2007 – competition
Bronx Independent Film Festival, New York, USA 29.-30.6.2007
Anima Mundi – Rio de Janeiro & Sao Paulo, Brazil, 29.6.-15.7.2007 – program
Mostra Lambda, Barcelona, Spain 5.-12.7.2007
Blue Sea Film Festival, Rauma, Finland 16.-19.8.2007 – competition
TINKLAI International Short Film Festival, Vilna, Liettua, September 2007
Queer Lisboa – 11th Lisbon Gay and Lesbian Film Festival, Portugal 14.-22.9.2007 – competition
Helsinki international film festival, Helsinki, Finland 20.-30.9.2007
Queerfilm, Bremen, Germany 9.-14.10.2007
Hamburg International Lesbian and Gay Film Festival, Germany 16.-21.10.2007
Lesbian and Gay Film Festival Hanover, Saksa, 23.-28.10.2007
KROK International Animated film Festival, Ukraine 25.9.-6.10.2007 – competition
Molodist, Kyiv international film festival, Ukraine, 20.-28.10.2007
Sacramento International Gay and Lesbian Film Festival, USA, 11.-13.10., 2007
Animatrics, Helsinki, Suomi, 24.-28.10.2007 – kilpailusarja
Cinanima, Espinho, Portugal 5.-11.11.2007
Queersicht, Bern, Swizerland 9.-11.11.2007
GLFF MEZIPATRA, Brno & Prague, Czech Republic, 26.10.-3.11. & 5.-11.11.2007
Outsiders Film Festival, Liverpool, Great Britain, 20.10.-1.11.2007
Spokane GLBT Film Festival, USA, 3.-5.11.2007
Ljubljana Gay and Lesbian Film Festival, Slovenia, 24.11.-1.12.2007
ALTER-NATIVE 15 International Short Film Festival, Romania 7.-11.11.2007
Aarhus Filmfestival, Danmark, 23.-28.10.2007
Nordiche Filmtage, Lubeck, Germany 31.10.-4.11.2007
Kettupäivät, Helsinki, Finland, 7.-10.11.2007
Brest European Short Film Festival, France, 10.-18.11.2007
GIRAF, Giant Incandescent Resonating Animation Festival, Calgary, Canada, 2.-3.11.2007
Siena International Short Film Festival, Italy, 19.-24.11.2007 – competition
WT Os International Film Festival, Norway, 7.-11.11.2007
zwergWERK, Oldenburg, Germany, 29.11.-2.12.2007
AFIA, Aarhus, Danmark , 17.3.2008 – Best Nordic Art Film competition
Film Out, San Diego, USA, 11.-17.4.2008
From Sodom to Hollywood, Torino, Italia , 17.-24.4.2008
Moves08, Manchester, Great Britain, 22.-26.4.2008
Annecy International Animated Film Festival, Ransak, 9.-14.6.2008
Insideout, Toronto, Canada, 15.-25.5.2008
Comic Salon, Erlangen, Germany, 22.-23.5.2008
Babylon Kino, Indie Films showcase, Furth/Nurnberg, Saksa, 26.5.2008
NewFest, New York, USA, 5.-15.6.2008
Moves 08 on tour

University of Brighton, Iso Britania, 6.3.2008
BBC Big Screen, Derby, Iso Britania, 5.-16.7.2008
CCA, Glasgow, 26.6.2008
BBC Big Screen, Derby, UK, 5.-16.7.2008
Kazan, Russian Federation 30.-31.7.2008
Rostow, Russian Federation, July 2008
Gramado Animation Festival, Brasilia, 24.10.2008
SAFE, Budapest, Hungary, 28.10.2008

Hiroshima International Animation Festival, Japani, 6.-12.8. 2008
Zeitgeist International Film Festival, San Francisco, USA, 11.8.2008
Austin Gay & Lesbian International Film Festival, USA, 5.10.2008
Milwaukee LGBT Film/Video Festival, USA, 4.-14.10.2008
International Festival of Erotic Animation, Rio de Janeiro, Brasilia ja Sao Paulo, Brasilia, marras-joulukuu 2008
Pink Screens, Brussels, Belgia, 23.10.-1.11.2008
Kosmorama, Turku, Finland, 21.10.2008
San Francisco International Animation Festival, USA, 13.-16.11.2008
Vinokino, various cities, Finland, sept-nov 2008
Rokumentti, Joensuu, Finland, 11.-16.11.2008
Scanorama, Lithuania, Nov 2008
Festival Ciné Junior, Paris, France, 28.2.-10.1.2009
Fajr Film Festival, Iran, 1.-11.2.2009
Festival du Cinéma Nordique, Rouen, France, 18.–29.3.2009
Cinémarges, Bordeaux, France, 1.5.2009
Annecy09, France, 10.-12.6.2009 (Dance Card)
Bibliothèque
Centre Pompidou, Paris, France
OIAF, Ottawa, Canada 14.-18.10.2009
Alcine, Alcalá de Henares, Spain, 6.–14.11.2009
Animateka International Animation Film Festival, Ljubljana, Slovenia, 7.–13.12.2009
Finnish Animation Event, Havana, Cuba, February 2010
Monstra Festival 2010 – Lisbon Animated Film Festival, Portugal, 11.–21.3.2010
Festival de Cine de Huesca, Spain, 4.–12.6.2010
Iris – International Animation Festival of Sexual Diversity, Rio de Janeiro & Sao Paolo, Brazil, 15-19. & 24.-30.9.2010
The Lille International Short Film Festival, France, 9.-16.10.2010
Nordic Lights Film Festival, Chicago & Minneapolis, 19.-24.11.2010
Club Vauban, Brest, France 19.2.2011 (with 22 Pistepirkko)
Barcelona International Short Film Festival 8.-17.4.2011
Padova Vintage Festival, Spain 9.-11.9.2011
Bucharest International Experimental Film Festival 16.-23.11.2011
Awards
Crew
directors: Hannu Lajunen, Tomi Riionheimo
main actors: Petteri Sopanen, Timo Pesonen, Kaarina Etto
supporting actors: Hannu Lajunen, Lauri Hannu, Tomi Riionheimo, Antti Takkunen
script: Hannu Lajunen
animation: Tomi Riionheimo and Hannu Lajunen
cinematography: Antti Takkunen
editing: Ykä Järvinen ja Tomi Riionheimo
sound design: Pirkko Tiitinen
music: Hannu Lajunen
music arrangements: Lauri Hannu
musicians: Paavo Korpijaakko (accordion), Lauri Hannu (gtr. b. banjo, mandolin), Hannu Lajunen (drums)
music recording and mixing: Janne Riionheimo
additional music recording: Saku Anttila
foley: Pirkko Tiitinen, Pasi Pehkonen, Tomi Riionheimo and Petri Sihvonen
set design: Tomi Riionheimo
colouring: Antti Takkunen, Olli Leppänen ja Greg Fisher
assistents: Tero Tolvanen ja Inka Kosonen
grip: Sami Mäntymaa
transportation: Antti Kastari / Kinobilbolaget Oy
sound studios: Kekkonen, Meguru Filmsound, Soundwise, Akun Tehtaan Mixroom
edit units: Indie Films Tiny Sick Edit, Digital Film Finland
film laboratory: Finnlab
accounting: Laskentasysteemi Oy / Pirjo Harmainen
Thank you: Seppo Louhi, Minna Pekuri, Myllypuron ala-aste, Simonlinnan kulta, Jan Andersson, Taina Värri, Karoliina Joutsiniemi, Raimo Pesonen, Leo Petäjäkorpi and friends, Eläkeläiset-yhtye, Q-teatteri, Stella Polaris
production: Tomi Riionheimo
in co-operation with: YLE TV1 yhteistuotannot / Sari Volanen ja Suomen elokuvasäätiö / Miia Haavisto
year of production: 2006
premiere: 8.3.2007
Directors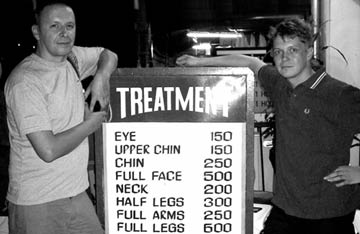 Hannu Lajunen (1963) ia a graphic designer and a part time drummer of various bands. Tomi Riionheimo (1966) is a drop out lecturer of human anatomy and physiology, a self made comic strip artist, designer and producer.
Earlier animations by the directors
Eläkeläiset: Kiitokset humpasta -music video
Hip & Hale (Rieku & Raiku) animation series (12 episodes)
Hip and Hale on Pussy Patrol (Rieku ja Raiku pimustavat baarilla)
The band