Curse Of The Remote Island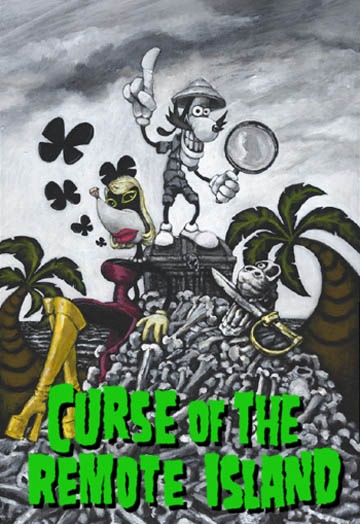 director: CHRZU
original title: Kaukosaaren kirous – En fjärran ös förbannelse
German title: Der Fluch von der fernen Insel
duration: 16 min 15 sec
techniques: puppet/3D
themes: adventure, slap-stick, media criticism
audience: adult
premiere: March 2008
Download press material from here.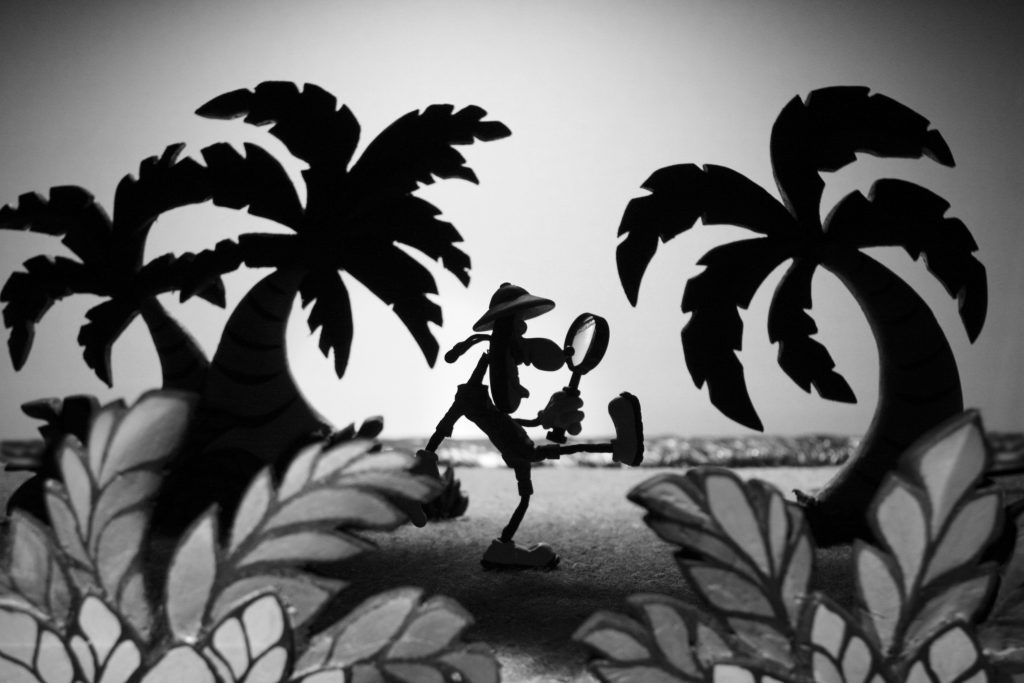 Synopsis
Sir Void, the heroic adventurer from the golden age of cartoons and silent film finds his way into the world of contemporary television. The curse of endless bad alternatives makes an impact on theinnocent explorer. This true story describes what really happened to to the original Tarzan, Vampira and all their forgotten friends.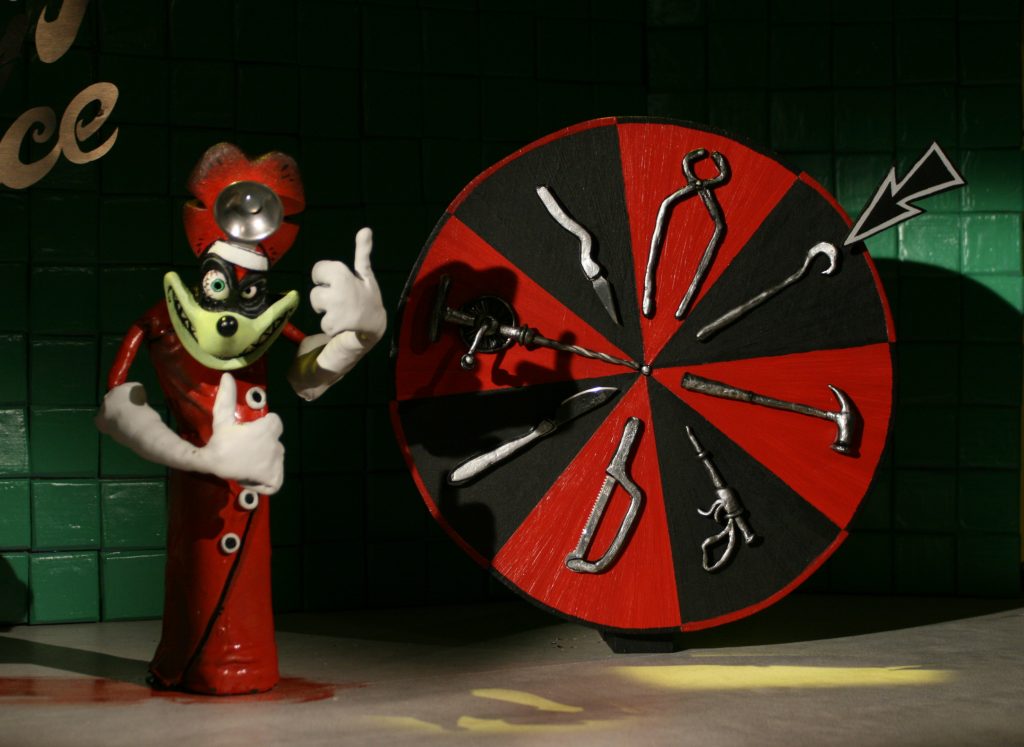 DVD releases
KinoKompo vol. 1 – 10 short films from Finland (Finnish film contact & Tampere Film Festival). BUY.
Festivals and screenings
Tampereen elokuvajuhlat,5.-9.3.2008 (esitykset 7. ja 8.3.)
Taidemuseo Tennispalatsi, Helsinki 13.3.2008
Kiasma-teatteri, Helsinki, 19.3. 2008
Animabasauri, Bilbao, Espanja, 18.-25.4.2008
Reanimacja, Lodz, Puola, 25.-27.4.
Cannes film festival, Short Film Corner, Ranska, 14.-25.5.2008
Comic Salon, Erlangen, Saksa, 22.-23.5.2008
Babylon Kino, Indie Films showcase, Furth/Nurnberg, Saksa, 26.5.2008
Finlandssvenskt filmcentrum -esitys, Andorra, Helsinki, Finland, 28.5.2008
Zeitgeist International Film Festival, San Francisco, USA, 9.6.2008
Midnight Sun Film Festival, Sodankylä, Suomi 11.-15.6.2008
Anima Mundi, Ro de Janeiro, Brasilia, 11.-20.7.2008
Anima Mundi, Sao Paulo, Brasilia, 23.-27.7.2008
Lenola Film Festival, Italia, 19. ja 22.-27.8. 2008
Hiroshima International Animation Festival, Japani, 6.-12.8.2008
Odense Film Festival, Tanska, 19.-24.8.2008
Espoo Cine, Espoo, Suomi, 19.-24.8.2008
Magma, Italia, 11.-14.9.2008
Milano Film Festival, Italia, 12.-21.9.2008
Lund International Fantastic Film Festival, Ruotsi,18.-27.10. 2008
Ikiomat, Turku, Suomi, 19.10.2008
Trieste International Science Fiction Festival, 11.-16.11.2008
Séquence International Short-film Festival, Toulouse, Ranska, 14.-30.11.2008
Kettupäivät, Helsinki, 2008
Rokumentti, Joensuu, 2008
Cinemare, Joensuu, 2008
Cortoons, Rooma, Italia, 25.-29.3.2009
Festival Mauvais Genre, Tours, Ranska, 11.-13.4.2009
Glimmer, Hull, Iso Britannia 21.-26.4.
Weekend of Fear, Erlangen, Saksa, 1.-2.5.2009
JUST FOR LAUGHS, Toronto, Kanada, 16.-26.7.2009
Bram Stoker International Film Festival, Whitby, UK, 16.-19.10.2009
Awards
Special prize, Finnish competition, Tampere Film Festival 2008
Méliès award, Espoo Ciné, Finland, 2008
A virtuosically executed, clever, and entertaining morality. The film pays mischievous tribute to the classics of animation.

Tampere Film Festival jury of the Finnish competition
Crew
written, designed and directed by CHRZU
director of photography and lightning: Ville Muurinen
editing: Ykä Järvinen & CHRZU
sound design: Mikko Paju
main animator: Jan Andersson
animation: CHRZU, Antti Laakso, Sara wahl
3D-animation: Risto Jankkila / Digital Film Finland
compositing and graphics: CHRZU, Risto Jankkila, Samppa Kukkonen
the heads and bones of Sir Void: Sara Wahl
puppet builders: CHRZU, Sara Wahl, Antti Laakso
et building and props: CHRZU, Taru Anttila, Sara Wahl, Minja Tuomisalo, Antti Laakso, Marko Jylhä
matte paintings: Taru Anttila,
music: Lauri Hannu, Vauhtihirmu, CHRZU
music recording: Tomi Pietilä, Lauri Hannu, Kalle Vaintola
music mixing: Tomi Pietilä / Akun Tehtaan MixRoom
musicians: Liisa Honkanen (harp), Petri Nieminen (flute), Tomi Hyttinen (perc), Lauri Hannu (keys, guitars, mandolin, perc, bass), Maiju Kopra (trumpet, vocals & final scream), Hanna Lahtinen (vocals & uuhs), Marianne Nurmi (vocals & aahs), Mari Palviainen (vocals), Vauhtihirmu: Kalle Vaintola (gtr), Saku Toivanen (bass), Heikki Jytilä (dr)
colouring: Greg Fisher @ Digital Film Finland
Dolby-mastering: Pekka karjalainen / Meguru film sound
thank you: Turun Anikistit ry, Animaation apupyörä ry, Tvärr ry, Lindströms, Leena Kemppi, Eija Saarinen, Timo Tanskanen, Timo Muikku, Pekka Aine, Rami Kallio, Aiju Salminen, Olli Leppänen, Elisa Koskinen, Simo Ruotsalainen, Jarkko Romppanen, Jani Vesalainen, Kristiina Kolehmainen, Kalle Euro, Sara Bronstein, Anna Puukka, Sössö Salminen/Eppu Normaaali Oy, Turkulaiset ravintolat Rokkibaari, Tomate ja Proffa, Eläkeläiset-yhtye, Leo Petäjäkorpi & Co.
produced in co-operation with: Yle TV1 Yhteistuotannot/Sari Volanen, Finnish film foundation/Raili Salmi & Miia Haavisto, Avek/Ulla Simonen, FST5/Liselott Forsman, Svenska Kulturfonden, Länsi-Suomen elokuvakomissio, Arts Academy at Turku University of Applied Sciences
tuotanto: Tomi Riionheimo
premiere: March 2008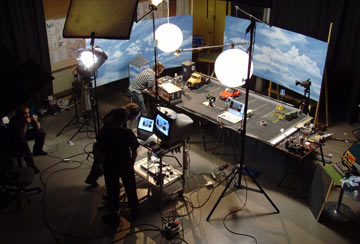 Director
CHRZU (Christer Lindström, born 1977) focuses on directing and writing but is active in all parts of the film making from set building to sound design. Chrzu has graduated from the Arts Academy at Turku University of Applied Sciences